Trust is a huge factor when building a successful online business, it will help your business to gain consumer confidence which helps convert more of your traffic into leads and sales. Google My Business Reviews are seen as one of the most powerful ways of increasing brand visibility while promoting trust and confidence in your products and services.
Whether you love or hate reviews 90% of Australian consumers will read online reviews before visiting, purchasing or working with your business. As many as 88% of consumers trust online reviews as much as personal recommendations and word of mouth.
These days it's challenging for businesses to hide from poor performance and in a digital world it means customers with bad experiences are often quick to provide you with a negative review.
While it's not impossible to achieve a perfect five-star review, from all your customers, no matter how hard you try there's always one who isn't happy. However you'll be happy to know that one bad egg can't rain on your parade, customers aren't looking for perfection with 92% of consumers happy to work and buy from businesses with a score of 4 of more.
What Are Google My Business Reviews & Why Are They Important
According to MOZ's Ranking Factors for 2017 of local search ranking factors, online reviews are said to make up 13% of how Google rank local search results. While this data is sourced from dozens of local search experts, and not Google themselves, it highlights a general acceptance that gaining reviews can increase local rankings.
You only have to take a look at this example to get an understanding of how Google My Business Reviews can help increase your business visibility. I know which one I would click on.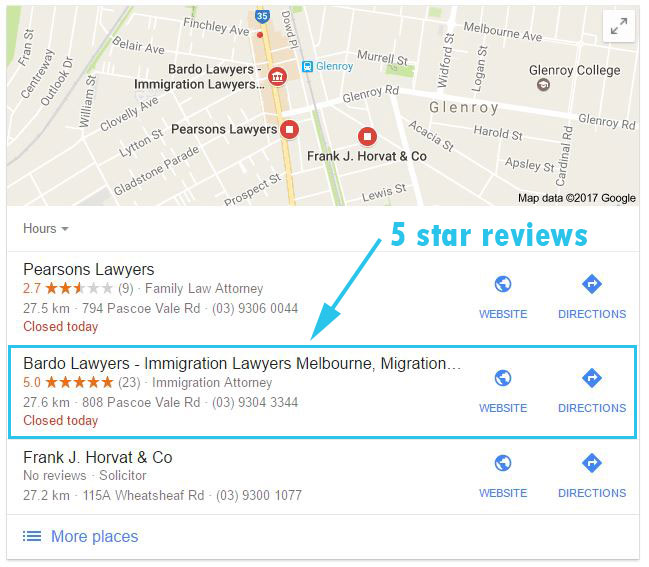 Google originally introduced the local pack in 2014 and was originally launched as a a group of 7 business listings. However in 2015, for whatever reason, Google updated the local pack to become a 3 pack as seen above. Within this pack potential customers will see things like your address, your phone number and of course the reviews people have written about you.
Not only are reviews going to help you with your click-through rate (CTR) they can play a factor in helping your business appear in the local pack in the first place. While the proximity of the searcher to your business address will always be the main ranking factor for the local pack, reviews are worthy addition and more importantly an area of control.
In the past, position 1 in the SERPs was the holy grail for online businesses but with the addition of the local pack, and even more real estate given to paid adverts, we now find that position one can be as far as 40-50% down the results page. Don't be surprised if the volume you expected from a search term in position 1 is nowhere near what you originally expected it might be.
Position #1 is now actually more like position #8.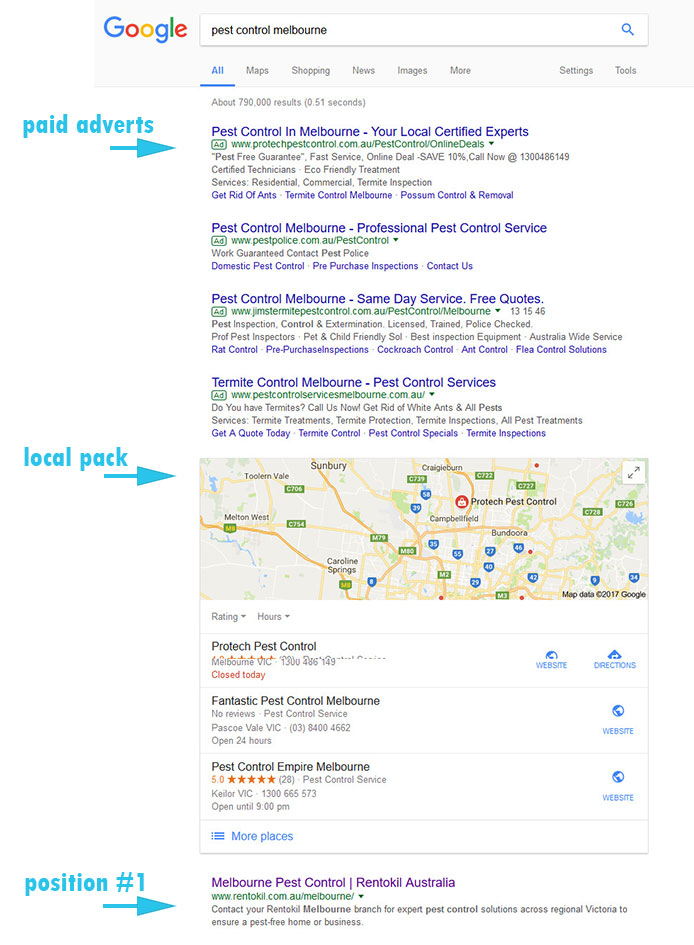 How to Ask for Google My Business Reviews
While asking for reviews isn't always the most genuine approach it will drastically improve the chances of receiving reviews for your business.  We speak with many clients daily who do outstanding work and have a great reputation but they don't have any online reviews to show.
But, we often hear from our clients after they find their  first and only negative review as they switch into panic mode because of the damaging effect it might have on their business.
What happens is that consumers don't typically review their dentist, plumber, travel agency or many other business types that they interact with on a daily basis – unless something goes wrong. When you don't put the effort into proactively asking for reviews from happy customers you'll often only receive reviews from the few customers you couldn't please.
So what can you do? Well the process is simple really, you need to ask happy customers for reviews.
If you want the best chance of gaining a positive review there are number of steps you can follow:
Ask When The Timing Is Right
You don't want to ask your customer too early or too late in your engagement, the timing is important. When you ask too early it means your customer might not yet have had the opportunity to see the full benefits of your service. However, when you ask too late that initial impressiveness or gratitude for your service may have worn off reducing their desire to write a review.
Make it Easy to Leave Reviews
Not only is important to ask customers for positive reviews, it's important that you show them how to do so. In all honesty Google Reviews are not the easiest thing to ask for and it can be confusing for customers. Their time is important so it's our job to eliminate their roadblocks by providing them with clear instructions on how to leave a positive review. (see instructions below)
Add review links to your email
If you use an email marketing campaign, or simply email customers on a daily basis, then you're missing a huge opportunity by not utilising it to gain reviews. Send an email out to all of your past and existing customers and ask them to write a review if they were impressed. You might also include a call to action (CTA) on your email signature with a link to your Google My Business Review page.
The tip trick
If you've spent a lot of time with a particular customer then the tip trick can work well for you too and it works best when supported by c-level. Basically you tell your customer that, "If you had a good experience and include my name in the review, the company gives me a $20 tip." Most consumers have a good heart and they want to know that their money is benefiting someone who has helped them and not just being spent on petrol for a directors Ferrari.
Asking in Person or by Phone
It's ironic that we live in a digital world but there's  really no better way to ask for, and get, reviews than to do it in person. The person-to-person approach is very personal, when compared to email, and asking in person can achieve seven to eight times more reviews than asking via email.
Linking to your Google My Business Review Form
As we mentioned earlier, customers are incredibly busy and if you're going to increase your percentage of positive reviews you need to make the process as easy as possible. Google My Business unfortunately still provides a rather clunky process to getting reviews but the good thing is that we can make it easier.
What we need to provide is a direct link to the Google My Business review form so our customers can easily be directed where to add their review, so how do we do that?
1. Search for your Business Name in Google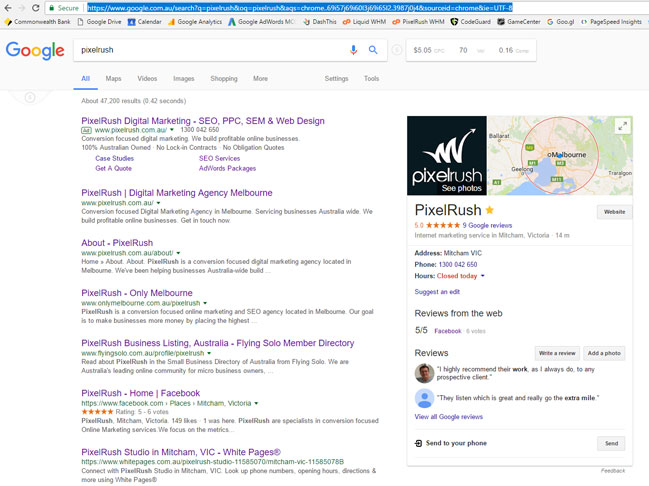 2. Click on "Write a Review"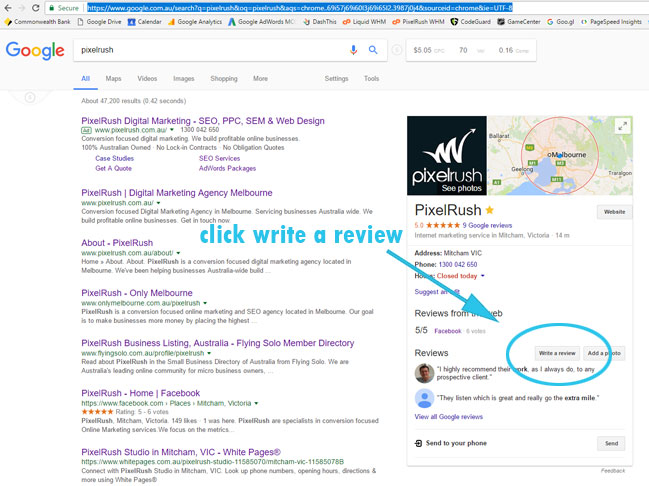 3. Copy the URL once the Google Review Box pops up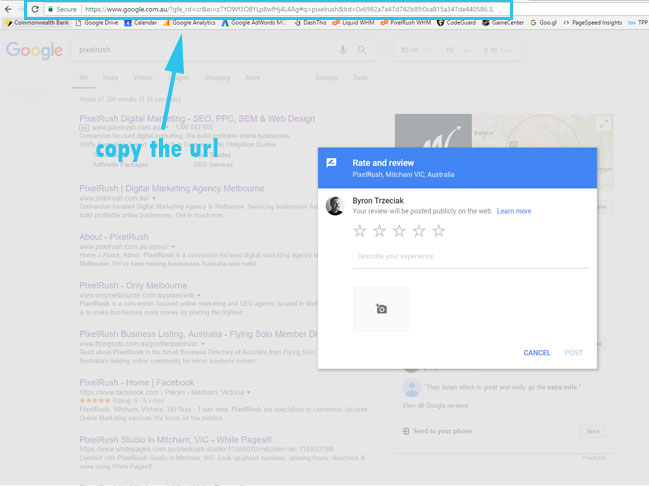 When you copy that URL you'll find that you receive a link that's similar (but might have some subtle differences as well) to the following links:
https://www.google.com.au/?gfe_rd=cr&ei=fmoSWcyjJc3r8AfDjIWYCw#q=pixelrush&lrd=0x6982a7a47d742b89:0xa815a347de440586,3,
You'll notice on the end of the URL is a number 3 which is used to pop up the review box. But here's the kicker, we've found that if you add a 5 after the last comma then it will open the review box with the 5 stars already selected.
https://www.google.com.au/?gfe_rd=cr&ei=fmoSWcyjJc3r8AfDjIWYCw#q=pixelrush&lrd=0x6982a7a47d742b89:0xa815a347de440586,3,5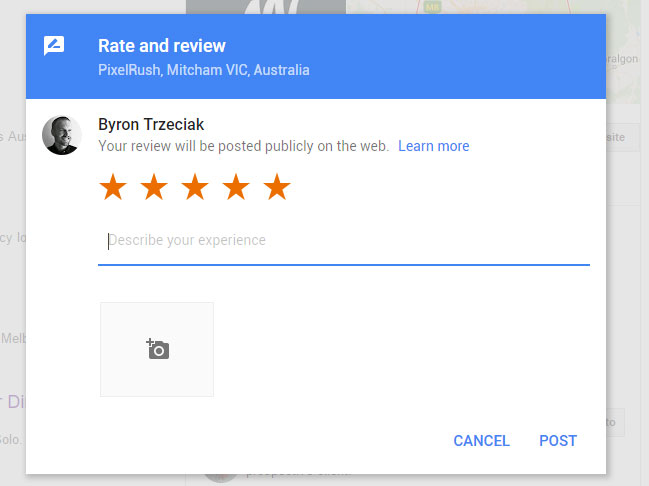 4. Send the URL to your customers and start getting Google reviews
Simply copy and paste the URL generated above, remembering to add the 5 on the end, and add it into your email and send it to your customers when the timing is right.
Is it only Google My Business Reviews you should worry about?
Throughout this article we've only focused on Google My Business reviews but that doesn't mean you should ignore other review sites. In fact, in the Google My Business brand box you'll also find that Google will pull in reviews from other sources too.
As seen below Google has used Mylocalsalon, True Local and Facebook for review sources too. The section labelled "reviews from the web" will link directly to reviews on sources other than Google make it very easy for consumers to research the quality of your business.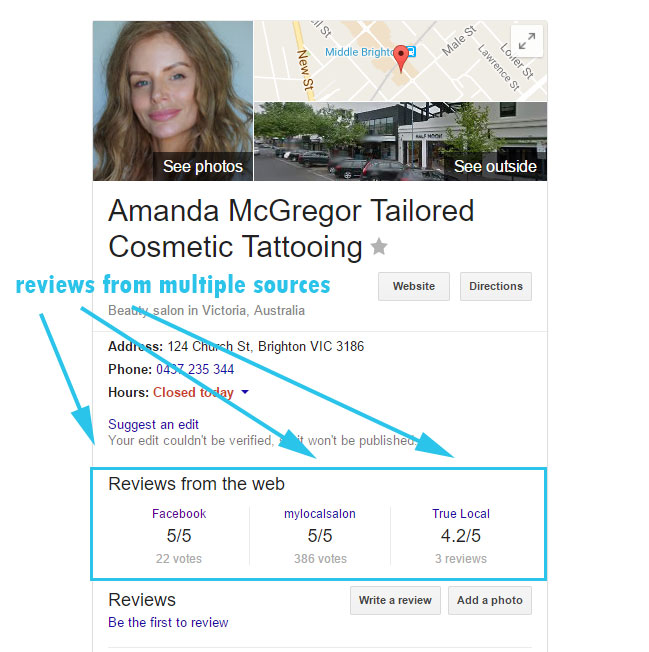 It's really important that your process gains positive reviews in multiple locations as well as the ability to manage negative reviews effectively.  Consumers will look wherever necessary to find any potential dirt on a prospective business they might be interested in working with so it's important you don't ignore any potential source of reviews.
While reviews on third-party sites will not provide any benefit on your rankings they are critical to gain trust and we know that trust impacts conversions.
Conclusion
If you're a local business and rely heavily on Google to gain new customers then you should be focusing on your reviews. If you're not currently listing in the local pack then reviews might be a good place to start that you can control and influence.
The last thing you want to do is ignore reviews and then go into panic mode the minute you receive a negative review, instead you want to be proactive have a process in place for gaining 5 star reviews from happy customers. By being proactive you'll water down the damage a negative review can cause your business in the future.
Remember your aim isn't for perfection, instead gain as many 4 and 5 star reviews as possible so that your positive reviews heavily outweigh your negative reviews.
Need help in building a high performing online business? Contact us today for a no risk, no obligation free digital strategy review.