For large brands with big marketing and advertising budgets, a few thousand dollars is literally just a dip in their online marketing spend. But for entrepreneurs and small business owners, every dollar counts – and investments need to pay off in real-time and provide immediate marketing ROI.
You have three choices for your online marketing – You can do it yourself ($), have someone do it for you ($$$) or a combination of the two ($$). Understanding which option you choose will inevitably come down to time, capabilities and your budget.
To further complicate things businesses often ask which form of digital marketing is the best investment? And the answer is…."well, that depends". I wish there was a one solution fits all but there isn't it. What works for one customer might not necessarily work for you, your industry or the type of products you sell.
In a recent survey 75% of small businesses believe that internet marketing is 'effective' or 'very' effective at attracting new customers. But which channels ones are most effective for your business?
Each marketing channel has its own requirements and unique benefits.
Let's use a Facebook Page as an example, it costs you nothing to create it but if you want to build an audience and generate new business you'll need to do more than just signup. You'll need continuous content to gain ongoing attention and engagement and attract a greater audience to your brand. It's a much bigger time consideration than most expect.
Not only time but each channel has a learning curve too if you want to do it yourself. I can tell you from experience that knowledge is gained from continuous trial and error. It can be a steep learning curve for those that choose to go it alone.
Let's first summarise the channels and try to identify what might be a good fit for you, your capabilities and your budget.
An Overview Of Digital Channels
Moz put together a great infographic that shows the breakdown of time, capabilities and costs .

So what does the infographic tell us? Here are a few things:

Facebook Page has small costs but is time intensive.
Search Advertising (SEM, PPC) has high costs but lower ongoing time requirements.
Blogging is time intensive but very cheap if you do it yourself.
Local SEO is cheaper than ongoing SEO, can also cost less and may provide high ROI.
Link building is time intensive and expensive.
How Small Business Defines Success
What's confusing is how small businesses define success with over 40% of survey participants highlighted that they use traffic and rankings to define success of their digital marketing although phone calls / enquiries are obviously still important.
What the graph doesn't highlight is social media and that small businesses often have different expectations for Social, when compared to SEO, and merely being present and active is often the only requirement.
Big corporations market their business in different ways, sometimes it for customers and other times it's for brand awareness. Small business on the other hand have finite budgets and limited time and need to see positive ROI quickly which is why tracking conversions, i.e. phone calls and enquiries, should be the key metric for defining the success of any marketing channel.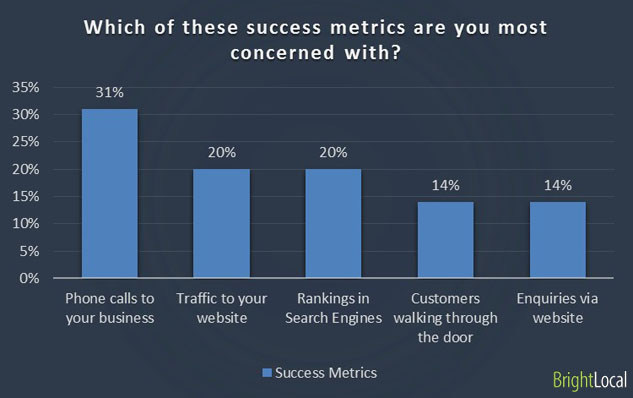 I understand the small businesses fixation with improving rankings and traffic, you feel that both of those will contribute towards more enquiries.  However those two metrics alone won't necessarily increase your business. The design of your website plays can play a significant role in how frequently your visitors enquire . If you can't develop a site that builds trust and builds preference you're unlikely to get many enquiries regardless of your rankings.
You should always focus on working with the traffic and rankings you have by trying to convert visitors at the highest rate.
Let's compare some of the digital channels most frequently focused on by small business.
Is Search Engine Optimisation Effective For Small Business?
Hubspot shows that 44% of online shoppers begin by using a search engine. A survey conducted by BrightLocal at the start of 2015 highlighted that of all businesses surveyed 20% of businesses find SEO to be the most effective channel at attracting new customers.
SEO is second only to Word of Mouth which is the holy grail of small business marketing.
I can confirm that with what I've seen from my own customers that SEO should not be ignored, just last month a single client generated over 200 enquiries in a single month. Over 60% of enquiries were from organic search. This didn't happen overnight however, it's now a 7 month campaign, combining local SEO, onsite SEO plus ongoing link building and content marketing.. Find out more here.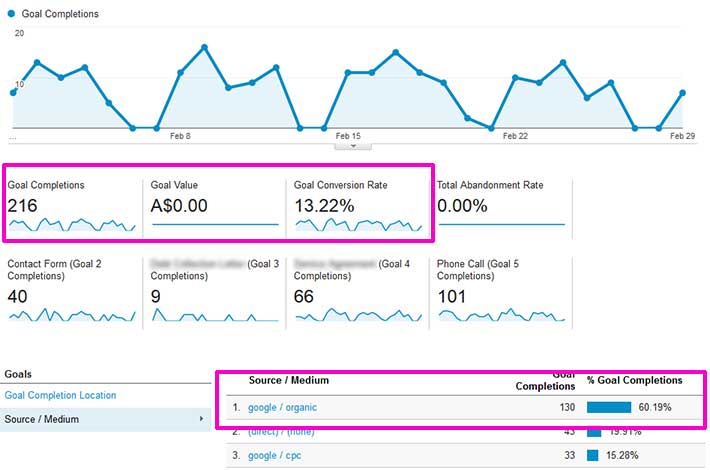 Sounds like a great deal doesn't it? The issue however is that small business budgets often can't accommodate an extensive 7 month campaign of high quality SEO because of the ROI latency business owners often get nervous about their investment quickly.
SEO Point describes a term called SEO latency which "is a simple definition of the amount of time it usually takes between beginning an SEO campaign, and actually seeing any sort of results." Simply put, if you have a level of competition that's higher than people teaching dogs how to do backflips then chances are your SEO won't drastically change your business overnight.
Fortunately we can break down SEO into more cost-effective solutions.
Local & Onsite SEO – Short term & Cost effective.
Local SEO and on site optimisation can be an incredibly cost-effective form of online marketing for small business but for some reason it's the one which is most often ignored.
I tell my customers that targeting local terms can help your website reach the first page for lower competition search within a few weeks , sometimes overnight. These terms still have significant commercial value although the traffic volume is typically lower.
Onsite optimisation allows you to organise your website into silos, kind of like a filing cabinet,  with each silo targeting different search terms. When you combine these silos with location-based keywords you no longer compete against giants in your industry, instead you compete with small businesses that are in your local area.
This is incredibly effective and should be built into your website design from day one. Don't be the person that focuses on design and "prettiness" of your website and then chooses to ignore SEO, you're leaving money on the table if you do that.
For information on website structure view our post Creating an SEO Friendly Website Structure That Google Will Love.
Content Marketing & Link Building – Long term & more expensive.
Blogging is a great way to demonstrate your expertise and build relationships with prospective customers. It can give a big boost to your SEO but requires a significant time commitment. As Rand Fishkin describes it "SEO is like the rising tide that lifts the SEO ships" and by that he means that with each link you receive to your content you'll benefit the visibility of every other piece of content on your website too.
Most small businesses either dislike creating content or constantly use the excuse that they haven't got enough time. It's like wanting a cake but you're not prepared to bake it.
Without content it's incredibly hard to earn the types of links that will confer domain authority & rankings in search engines. It's even harder to increase traffic and search visibility of your website. Remember that everybody searches differently and often the term you want to rank is just the start of customers search. Content allows you to target customers and different stages of the buying lifecyle.
While onsite and Local SEO can get you to the first page over time often higher competition requires a website with more authority. The easiest way to build authority is through content and links.
The problem with links & content:
Valuable content is time-consuming to create.
Content without promotion often doesn't generate any links.
Promotion and amplification such as outreach and social media marketing doesn't scale well and is time intensive.
It's a time heavy strategy and any agency doing it on your behalf will charge considerably to do it for you. If your budgets are limited you may find that you need to invest in SEO training and do it yourself for a period of time before you can afford any assistance.
Although time heavy link building and content marketing often have a passive return that increase over time.
What about Social Media?
The first thing you need to understand with social media is that merely being present won't be enough for it to become a source of new business.
To have an effective social media it comes down to your ability to find and interact with an audience. For a business to flourish you need to consistently water it with fresh content because without content that audience will lose interest and become disconnected.
Your content also has a shorter lifespan with Social because new content is produced every second.  A single Facebook member may be exposed to up to 1,500 pieces of content per day.
I'ts hard to compare Social media to SEO however because they're two different beasts. As Gary Vaynerchuk says "There is no sale without the story; no knockout without the setup" and he highlights that Social isn't about spamming sell, sell, sell to your audience. Instead it's about building a connection and brand awareness through constant value and context.
Finding an audience can be tough and if your content is mediocre or boring, which is often the case for small businesses, it can be a significant effort for no return. Insidesales.com went as far as to say social is a high use and low lead generation channel.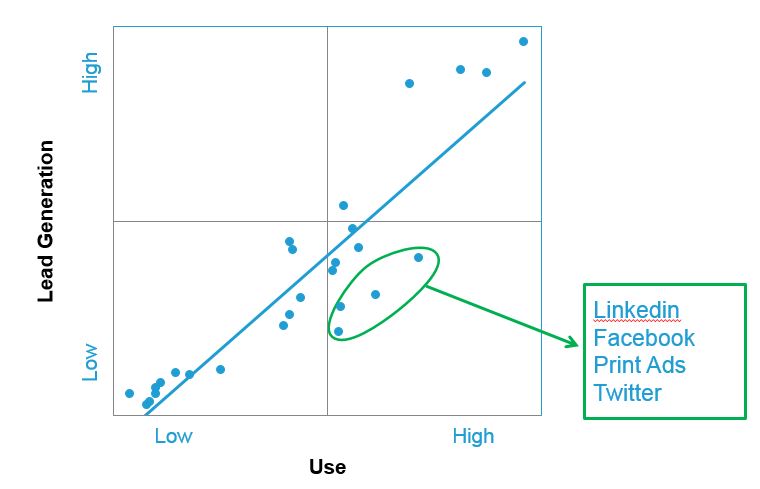 For most small businesses I work with the return from Social Marketing is often an unknown.
The one thing both SEO and Social have in common is content, which is why content is so critical for all businesses. As I've recommended for some time now all businesses should be investing in content and broadcasting that content across Social Media consistently. With the right strategy and process you can promote your business on a large number of social platforms with minimal extra effort.
My advice to business is to implement a marketing strategy using content as the backbone and develop a process that easily syndicates it on as many platforms as you. Don't ignore Social but at the same time understand your audience and which platforms you'll have the best opportunity to find and interact with them. If you track conversions with the goal of bringing visitors back to your site then over time you should be able to gain a clearer picture on which social platforms before the best.
The problem with social:
You need to identify how your content will stand out
Content generating, scheduling and engagement with your audience can be very time consuming
ROI is often harder to identify due as it's situated more in brand awareness
Leads or followers can take months or years to become a paying customer – customer latency can be high in comparison to other channels.
Paid Traffic – Is this the best entry point?
Paid traffic is potentially the best entry point for small businesses because the results can be instantaneous. For example we can develop an AdWords campaign for your business today that could generate you enquiries within 24 hours if we target keywords with the right context. Depending on the quality of that enquiry you might have instant ROI.
You might also consider turning on paid traffic and running it until alongside your organic SEO until SEO begins to eventually replace it or have lower costs per conversion.
AdWords is particularly beneficial to SEO because it provides data and context about search terms and which ones will commercial value for your business. This can help align the target keywords you'd like to focus on as part of SEO campaign.
Paid traffic such as AdWords also allows for easier estimations on your return. Divide your budget by the average cost per click and multiply that number by your current website conversion rate. However maximizing your budget won't happen overnight and the ongoing data you gain will show you how to minimise wasted spend. Again, you need conversion data so make sure you're tracking phone calls, contact form enquiries, sign ups and more.
PPC allows small business to secure new business rapidly. It can quickly be viewed as an investment rather than an expense. At the same time however the cost per acquisition might be significantly higher than SEO or Social over time and therefore there may be a transition point in which you start reducing your advertising as your SEO begins to kick in.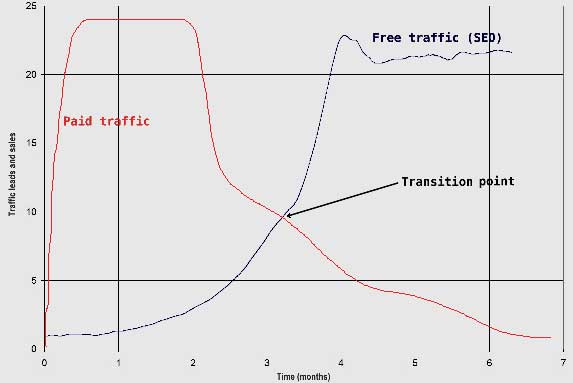 The problem with paid advertising:
If you don't understand what you're doing you can chew budgets quickly.
Your website or landing page is core to conversion rates and campaign success.
Don't advertise with a dud website and don't send every keyword to the same landing page.
You

must

track the right data to minimise wasted spend.
Most small businesses fail because their website isn't designed to capture visitors effectively result in poor conversion rates and low returns.
Further reading
Do you want to market your business online but you're confused which channel is best for you? Why not contact us today for a free consultation.